Puzzle Fun – for All Ages
You might think that jigsaw puzzles are an activity designed for grownups, but nothing could be further from the truth. The fact is, today there is such a wide variety that virtually anyone can find one to suit their own style of puzzle fun – for all ages.
Toddlers
Small children LOVE puzzles! I had many different ones for my own children as they were growing up and they always had a lot of good fun working them. What's really great too, is that the kids can always work a puzzle, no matter what the weather is like outside. So, it's an activity that is always fun and easily available.
As They Grow
I've personally never met a child, of any age, that didn't like to work puzzles. As they get older, simply get puzzles that are more challenging, to keep them interested. Having said that, we always had a few "favorites" that had that sentimental feeling attached to them…and even though they were technically easy for us all to work, it was always so much fun to see that completed picture once again.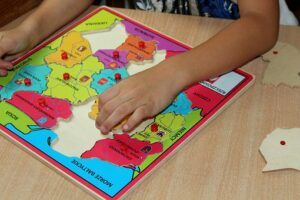 Puzzles are also a great way to entertain multiple children. They can be set up at parties, or sleep-overs, or even just play-dates. I know my kids always had a blast, and their friends loved coming over to our house because they had so much…you guessed it…FUN!
Teenagers
Yes, even teenagers love doing jigsaw puzzles! It's true that some may feel a need to still have their phones nearby, but it's a fact that, once they start working the puzzle and it works it's magical "mesmerizing spell" on them. They actually CAN, and DO, forget all about their phones…for a time at least.
I've seen it happen though, so I know it's true. It's also a great way for teens to "take a break" from all of the constant exposure to electronics and do something that allows their body and mind to relax and unwind. Even teenagers get stressed at times, so some down-time, especially REALLY FUN down-time, is a wonderful idea.
Adults
Hey, I'm an adult, and I love puzzles! I have many family members and friends who love them as well, so I know there is a puzzle out there for every puzzle-lover. People like to work them in different ways too:
some like to do the border first
some like to do the middle first
some go left to right or right to left
some go top to bottom or bottom to top
There are different things that people like to do with the finished puzzles as well. Lots of people like to coat it with a glue that dries clear, and then frame it and hang it on the wall. I, personally, do not do this, but it's fine if that's what someone else wants to do…after all, it's THEIR puzzle.
I prefer to just take it apart and put it back in the box. That way I can have fun all over again at a later date. I've had some puzzles that I just had to share with friends, they were just so pretty, and too much fun to keep all to myself!
Senior Adults
So okay, I qualify as a senior adult as well, yay me! What happens to a lot of us as we reach those "golden years", is that we become less active and end up staying indoors more. It's great to get outside anytime we can…I'm all for that, because I love being outside and working in a garden anytime the weather is right. But there are some who either don't want to, or maybe they can't, for whatever reason. Well, working puzzles is a great indoor activity for seniors, with a wealth of healthy benefits as well, so they can enjoy them for multiple reasons!
All Walks of Life
Not only are puzzles appealing to people of all ages, but people from all over the world, from many different cultures, enjoy doing them as well. They are just so versatile, yet not complicated at all. So, it's no wonder that people everywhere, from various walks of life, love them so much!
Limited Mobility
No matter what age we are, accidents can happen. We might find ourselves with a sprained ankle or a broken leg. Some of us may have some sort of surgery that keeps us housebound for a time. And yes, there are people who are wheelchair bound all the time.
For any of these situations, it's great to have some jigsaw puzzles around to alleviate boredom and help keep your outlook cheery. Working puzzles can help keep your mind off of your current condition and help you relax…so, they can help you enjoy your day more.
Whatever your age or situation, I wish you all Happy Puzzling!