Working a Puzzle in a Small Area – It's Easier Than You Think
I've been wanting to work some jigsaw puzzles, not only for fun, but also in order to do some individual puzzle reviews. To be honest, I don't have a good setup for working puzzles at this time. Still, where there is a will, there is a way. So, I got to thinking on what I could do to allow for working a  puzzle in a small area, which is all I have at the moment. I did some research online…and I came up with a way that works for me.
Research Phase:
I actually found out quite a bit of information, plus many tips on working a puzzle in a small space. For one, every puzzle will have the finished dimensions on the box. That's very helpful to know, because you want to make sure that the table, or board, that you are working it on is large enough to hold the completed puzzle. If there isn't room for sorting the pieces alongside the puzzle, you can purchase sorting trays, or just use box tops from other puzzles. You could even use flat dishes: plates, cookie sheets…there is a myriad of things you can use for sorting pieces.
There are also puzzle boards and puzzle tables that can be purchased for working puzzles on, and they are really nice! In fact, I added them to my Christmas list…let's hope my family takes note of that! Lol The boards come in different sizes, and some even have built-in trays that slide out for sorting the pieces on. Some of the tables can tilt, so that you can sit in a comfortable chair and have your puzzle right there in easy reach.
Equipment Procurement:
Still, I needed a board for now, so I researched what might work in the meantime. What I came up with was a very affordable alternative: a bulletin board. Now, the one I purchased is a double-sided corkboard with an aluminum frame around it. Its dimensions are 36" X 24". The double-sided feature did make it cost a little more, but it also makes it sturdier and more durable.
Along with the corkboard, I also ordered a nice wooden bracket that will hold it at an angle. This way I can set it up on my desk, or my dresser…pretty much anywhere the bracket will fit…and work my puzzles. The bracket design is very simple, very easy to use, and it folds flat for easy storage under my bed.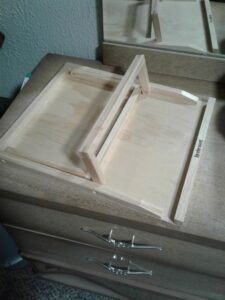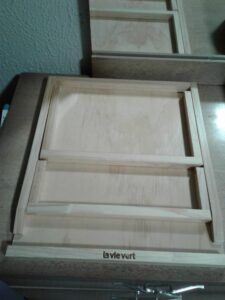 I also invested in some sorting trays. I was planning to do a 1,000-piece puzzle to start, but even so, I opted to get a set of trays that would hold 1500/2000 pieces. It never hurts to have a little more space to sort pieces, plus, I can use them with larger puzzles in the future. The main reason I purchased the trays though, is that they stack up nicely and have a LID, which will keep my nosy cat from stealing the pieces!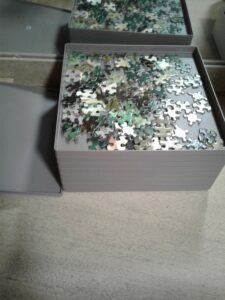 Preparation:
I like to think ahead, so I realized that once I received my new items and was all set to work my puzzles, there would still come the time when I would need to put it up for the night. A place was needed to store the board and the bracket. Once again, I had to put my thinking cap on to figure out just how I would manage that.
It ended up that I needed to re-organize my room. I needed to clear space under my bed, because that would be where I would store the board. But where to put the things under my bed? This issue was solved with the purchase of  some nice shelves that weren't outside of my budget. I bought 2 sets, and then I went to work on getting my room ready. It took me a little over a day, but I cleared everything out from under the lower half of my bed, which now gives me plenty of room to store the board under there.
The Big Day Finally Arrives:
Everything that I ordered was supposed to be delivered on Friday, October 2nd. My room was ready, and I was even more ready. I kept telling my family and friends that "I can't wait", and then they would tell me that I would have to. Gotta love those "pep talks", right? lol
So, it was a really nice surprise to get home from work on Thursday, October 1st, and find that my ordered items had arrived a day early…yay! I immediately started opening everything up. My oldest son had popped into my room and was making note of my new puzzle-working equipment. I didn't notice him leave the room, but then, a few minutes later he came back, holding in his hands…you guessed it, a jigsaw puzzle!
The Puzzle Itself:
This was a Ceaco brand, 550-piece puzzle called, "Earth Wizard", which stated that it would "Glow in the Dark" too. It turned out that he has had this puzzle for years and had NEVER OPENED the box! It was still sealed, and the manufacture date was 2002. Click here to see my review.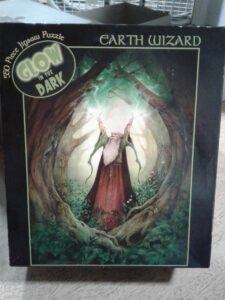 There is a story behind this puzzle. My daughter had bought it for my oldest son way back, something like, oh, maybe 15 years or so ago. My son liked, and still likes, wizard-y things, and he did like the puzzle. But what he did was…set it on his shelf, and then he kinda forgot that there was more to it than just the picture on the box.
Time for Testing:
Well, I decided to do his puzzle first and give everything a test to see how it would all work. I took a few pictures, included here, to chart our progress. I said "our", because yes, my son played a large part in piecing this puzzle together. After all, it IS his puzzle!
The pieces stayed on the corkboard really well, as did the evolving puzzle. The sorting trays worked really great too. I actually sorted the different shapes into different trays, making it easier to find the pieces we needed. Then, we could just pass the trays around as we looked for the piece we needed.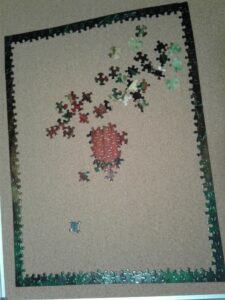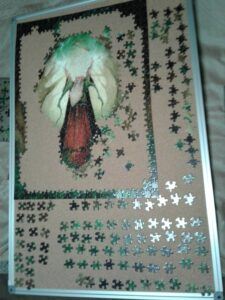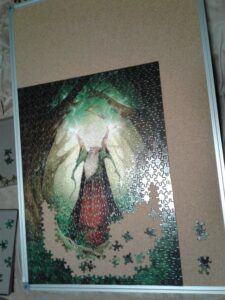 Our Progress:
The first day we worked on this puzzle we put the border together and a small section of the center. The next day we got most of the center done. My youngest son and my 2 grandsons joined in the fun and on the third day we completed the puzzle. I purposely let my oldest son place the final few pieces, because, well, you know, us moms do that sort of thing. 😊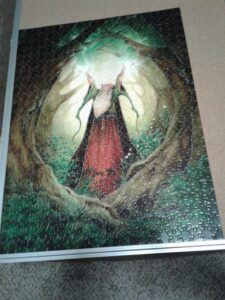 And btw…it DOES glow in the dark! But, only the lines of magic from the Earth Wizard, which are hard to see here.
All in all, it was a lot of fun working this puzzle and I was thrilled to find that the items I purchased to make it happen worked so well. I was concerned that once the puzzle was finished it might slide down the corkboard, but it stayed in place quite nicely. Now, if I tilted it at too sharp of an angle, it would shift down, due to the weight, but my angle was not acute enough to cause that, so I had no problems there.
Tuck it Away:
I kept the box that the corkboard came in and used it to store and protect the ongoing puzzle each night. I have to give my youngest son credit for that idea! I just placed the board with the puzzle pieces on it in the box, closed the flaps, and slid it under my bed…easy as pie! There was even room to store the bracket on top of it as well. It's very easy for me to access and only takes a minute to get it out and set it up, or to pack it in for the night.
End Result:
I am thrilled that all of my efforts paid off nicely! Now I can do the jigsaw puzzles that I have been wanting to do without compromising other parts of the house. And we have so many pets here…2 dogs, 4 cats…I would worry about pieces getting lost (or eaten) if they were left out in the open. So, if anyone is in a similar situation, just remember what I said at the beginning of this post: Where there is a will, there is a way!
I encourage anyone who wants to do puzzles, but thinks they don't have room, to give it another think and maybe try my ideas here. Or, who knows, someone may come up with even better ideas than I have. Trust me, it won't hurt my feelings if you do! But if you do, please feel free to leave me a comment letting me know if my ideas on working a puzzle in a small area work for you, or if you have new ideas that you would like to share.
Meanwhile, as always, Happy Puzzling!