MasterPieces Three Little Witches
I recently acquired a very nice Halloween-themed puzzle, so thought I'd give my thoughts on it here. This was a brand-new 1000-piece puzzle: MasterPieces Three Little Witches. The artwork was done by Bonnie White and, I have to say, it was really helpful in getting me in the Halloween mood. This was such a fun puzzle to work, and once again, several members of my family joined in the fun of putting it together.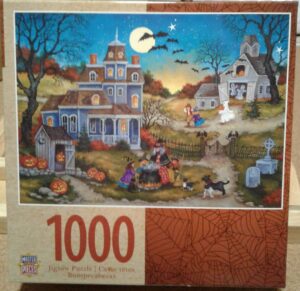 This puzzle's dimensions are 26.75″ x 19.25″, or if you prefer, 67.95 cm x 48.90 cm.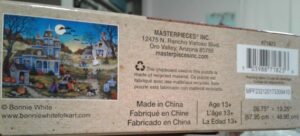 Starting Out:
The pieces of this puzzle were packaged in a sturdy plastic bag. Once the bag was opened and the pieces distributed on my sorting trays, I noticed that there was virtually no puzzle dust at all. Maybe just a few tiny specks…literally nothing to amount to anything. There was no puzzle dust in the box itself, either.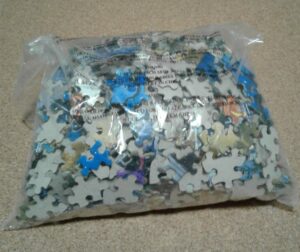 The Puzzle Pieces:
One of the first things I noticed about this puzzle was that there were a lot of "non-standard" shaped pieces. Well, that's my take on it. It may be normal in today's world, but in my opinion, many pieces had rather different shapes. I actually thought it was kinda cool, because some of them had what looked to me like "ghostly" shapes, which is very fitting in a Halloween-themed puzzle!
I also measured the width of the pieces and found them to be about 1/16". See below for some of the "ghostly" shapes: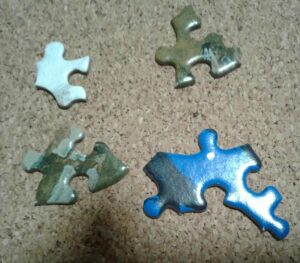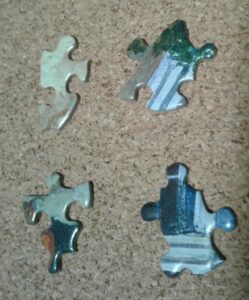 Assembling the Puzzle:
The assembly of this puzzle went very well, with all of the pieces fitting together nicely. I didn't find any low-quality pieces…all were cut apart properly with no backing stuck in the blank areas. And none of them had the backing separated or pulled up. They were all in great condition, which is what you would expect of a brand-new puzzle. Here is a picture of the completed puzzle: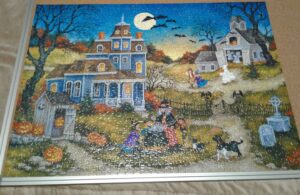 Enjoyment Factor:
I'm one of those people who really doesn't care how long it takes to work a puzzle. I just like to work on it as time allows…I find that relaxing and fun. Therefore, I didn't try to estimate the time it took me to complete it, which shouldn't matter anyways, since we all work puzzles at different speeds.
Suffice it to say that this puzzle was a lot of fun to put together and left me with a nice sense of accomplishment at the end.
To Sum it Up:
Puzzle dust = No
Thickness = 1/16"
Quality of pieces = Great
Easy to connect = Yes
Enjoyment factor = Great
I really liked working this MasterPieces Three Little Witches puzzle and would highly recommend it, especially around Halloween season. Also, please note that the Three Little Witches is part of a series, featuring artwork by Bonnie White. The scenes are just so lovely that I plan to look for the rest of the series in future.

I hope this review was helpful. I'd like to wish one and all, Happy Puzzling!