Best Jigsaw Puzzles for Adults – Puzzle Types
Jigsaw Puzzles have come a long way since the 1700's. These days, there are many different types to choose from. Anyone can find whatever type or level of puzzle that interests them, or try even more challenging types as their skill level improves. Below you will find a list of the best jigsaw puzzles for adults, many of which may be new to you:
2-Dimensional Puzzles
I'm sure everyone is familiar with these types of jigsaw puzzles. They are the type with a variety of scenes that also have a choice of how many pieces are preferred. They are the standard jigsaw puzzles that a lot of us grew up with, and they offer hours of relaxation and fun, as well as being challenging enough to keep one's interest.
These types of puzzles have many different varieties in themselves:
Murder Mystery Puzzles – This is possibly the most entertaining type of puzzle fun for any group or family activity. These puzzles involve assembling 2 completely different scenes, without the aid of pictures. To make it even more difficult, all of the pieces for both puzzles are all together in one bag. There is a booklet describing the Murder Mystery provided as well. Once both puzzles are completed, use the booklet and the completed scenes to solve the mystery.
Wasgij Puzzles – If you have never heard of Wasgij puzzles, fear not…you are not alone! Wasgij is simply the word, "Jigsaw" spelled backwards. These types of puzzles are unique in that the picture on the box is really only a clue to the finished puzzle, so they offer a larger degree of difficulty than the average puzzle.
Hidden Image Puzzles – These puzzles take puzzling to the next level by including a hidden image to find after the puzzle is complete. This makes for great fun at parties or for any get-together with family or friends.
Glow-in-the-Dark Puzzles – These are like regular 2-Dimensional puzzles, but with the added feature of glowing in the dark. Please be aware that these puzzles do need exposure to light in order for the glow-in-the-dark feature to work. Another thing to be aware of is that there are different quality puzzles of this type, so for best results, please purchase from a reputable manufacturer. Wouldn't it be cool to complete on of these, glue it together, hang it on the wall…and then turn the lights out?!
Photomosaic Puzzles – If you want a true challenge, then this is the puzzle for you! These puzzles not only result in the picture on the box, but they also have many smaller images within the greater image…which creates the ultimate challenge for some puzzlers. While this type of puzzle may not be for everyone, they can be just the ticket for those who want to take their skill level up a notch…or maybe several notches…lol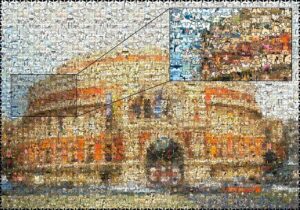 https://commons.wikimedia.org/wiki/Commons:GNU_Free_Documentation_License,_version_1.2
Wooden Puzzles
These are the type of puzzles that are closest to the original puzzles created by John Spilsbury. They are durable and easy to work, which makes them great for anyone new to working puzzles, as well as for either children, seniors, or anyone who wants to improve their fine motor skills.
Wooden puzzles used to be rather expensive, but thanks to modern techniques, their cost today is much less than in the past. Typically, these puzzles are cut from thin sheets of wood and the pieces fit into a frame with wood backing so that they stay in place and are easy to add to. Some puzzles pieces will have little pegs that act as handles to hold while placing the pieces where they go.
3-Dimensional Puzzles
For those who want more of a challenge, there is a great variety of 3-Dimensional puzzles to choose from:
Cardboard – most common; can be preserved with a special spray and/or glue when finished and hung on wall if desired
Crystal – transparent plastic crystalline-looking pieces that result in a beautiful finished project
Wooden – can be painted when completed, if desired; may require some sanding
All 3-Dimensional puzzle types have different degrees of difficulty, so it's best to do a little research on them first to see which one might be best to start with.
One especially interesting 3-Dimensional puzzle is a Puzzle Ball. These puzzles, when completed, are perfectly round, like a sphere. They incorporate quite the degree of difficulty, but for those who are up to the challenge, they offer hours, or maybe even days, of great fun.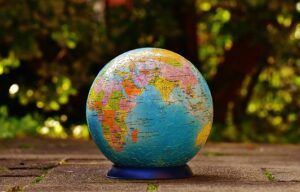 Unique Puzzles
These puzzles are well named, because each one has a, well… "unique", design. They are all irregularly shaped, depending on the scene, and there are many different ones to choose from. You can find them shaped like birds, or fish…or quite the number of other beautiful, colorful themes. These types of puzzles generally are not for kids, but adults find them to be truly fun, challenging, and very addictive!
Custom Personalized Puzzles
Did you know that you can also create your very own personalized jigsaw puzzle? Well, it's true…just send in a photo of your choice and you can have it made into a jigsaw puzzle. Please make sure your photo is of good quality; the image should be clear and sharp for the best results. These types of puzzles are great for preserving memories and/or reminiscing about special family events.
Many Puzzle Choices, Many Hours of Fun
So, there you have it, the best jigsaw puzzles for adults to choose from. I know there has to be a puzzle there, somewhere, for everyone… there is just so much variety! Please enjoy your day, and, as always, Happy Puzzling to All!