Cabin in the Wild – by Bits and Pieces
I've worked lots of jigsaw puzzles on and off all of my life, but believe it or not, this was the first shaped puzzle that I've done. I have to tell you; it was truly a delightful puzzle to work! The name of this puzzle is, "Cabin in the Wild". It's a very nice woodland scene with lots of animals and trees superimposed upon a pretty little cabin. The artist of this scene is Thomas Wood. I love animals and nature, so I thought this was a great choice for my first shaped puzzle.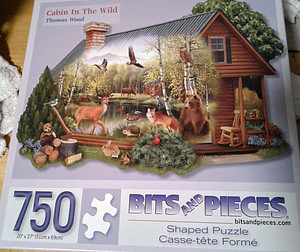 Out of the Box
Upon opening the box, I noticed that not only were the pieces enclosed in a sturdy plastic bag, but also that the bag was surrounded by a strip of cardboard. I am assuming that this was added protection. If that is, indeed, the case, then it worked really well. Nothing was damaged in shipment and all of the pieces were in perfect condition.
First Things First
Usually when I work puzzles, I like to do the edges first, but I knew that would not work well with this particular puzzle. So, I changed my plan of action and decided to work it by color instead. This was a good plan and was very effective. As I put more and more of the puzzle together, I became able to tell pretty well which pieces were edges. Still, I stuck with working it by color for the most part.
About the Puzzle Pieces
This puzzle had some uniquely shaped pieces in it, which I thought made it more interesting. There was never a doubt that a piece was in the correct place. The pieces themselves were a nice thickness and went together well when connected correctly. Here is a sample of some of the uniquely-shaped pieces: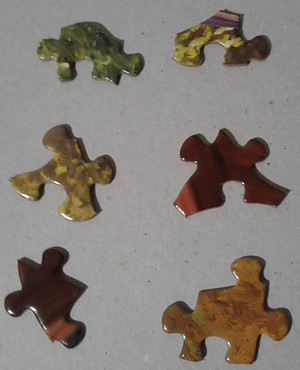 Working Through the Puzzle
I thought this puzzle was fairly easy to put together overall. While some might think that would cause it to be less challenging, thus less fun, for me that was not so. I sorted the pieces into my trays by color as best I could and then just concentrated on one area at a time. If I got stuck, I just worked on a different area for a while. I just kept going like that, doing a little part of different areas, until I could finally connect them.
Fun Factor
I thoroughly enjoyed working this puzzle and watching the woodland scene come alive as I progressed. It happened that I did save most all of the green areas for last, which made the last parts a bit more challenging, but that was okay. After all, it is a puzzle…it's meant to be a bit challenging. Part of why it was easier to work is the fact that it was only 750 pieces, and since I am used to 1,000-piece puzzles, I was prepared for that. Ultimately, it was a really nice puzzle and I am very happy with it.
Summing it Up:
Puzzle dust = None to speak of
Thickness = 1/16"
Quality of pieces = Very Good
Easy to connect = Yes
Enjoyment factor = Wonderful
So, there you have it: Cabin in the Wild, artistry by Thomas Wood, was a very enjoyable puzzle to work…truly a lot of fun. This puzzle is made by the Bits and Pieces company and is 750 pieces. The dimensions of the completed puzzle are: 20" X 27" (51 cm X 69 cm). It fit very well on my puzzle board, which was another plus.
Whether you like shaped puzzles or not, my wish to you is, as always: Happy Puzzling!