Jigsaw Puzzles for Children – Fun and Educational
I've said it before, and I will say it again: "I've never met a child who didn't like jigsaw puzzles." In fact, children actually thrive on puzzles. It's in our nature to take things apart and put them back together, which is exactly what you do when working a jigsaw puzzle. There are many different kinds of puzzles, and I am going to list here some of the best jigsaw puzzles for children to learn with, and also have loads of fun with.
Starting Out
When kids are just little, just starting out, then you want a type of puzzle that fits their growing little hands, and growing minds:
Pieces that are easy to handle
Colorful pieces
Basic shapes
Easily fit together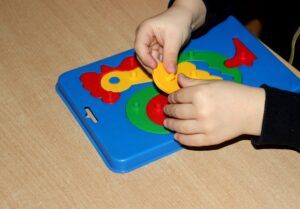 So, in the beginning, for a young child just learning puzzles, you'd really only want to have 4 – 8 pieces, so that it isn't overwhelming, but is still fun to work. It really doesn't take long for a child to master simple little puzzles like that.
For young children, ages 2 – 3, you'd want large pieces that they can hold easily and put in place by themselves. These puzzles, designed for young children, have pieces that fit together easily, or fit into cut-outs easily. They might need a little help to get started, but once they start, there is no stopping them!
Shape-O-Ball Puzzle
I don't know how many of you might remember the Shape-O-Ball that Tupperware sold years ago, but that was one of the best things I ever got for my own kids. They loved it! It wasn't exactly a jigsaw puzzle, but it was a type of puzzle, and it used the same concept as jigsaws, so it wasn't far off. It really stood the test of time too and got all of my kids off to a great start on loving puzzles.
There are jigsaw puzzles that are similar to that Shape-O-Ball, that have the basic shapes that fit into cut-outs on a board. These can be either wood, thick cardboard, or even plastic. They are colorful and eye-catching, and the shapes can be the basic square, star, triangle, etc. They can also be fruits: apple, orange, grape, watermelon, etc., or even different animals: dog, cat, cow, horse, etc.
Young children truly love these types of puzzles, and they learn more, and easier, because they are having fun all the while their brains are soaking up the info… it's a win—win!
Next Stage
Once young kids master simple puzzles, keep their interest going by increasing the challenge. There are jigsaw puzzles for every stage of a child's growth. Next you can give them puzzles with 10 – 20 pieces. Work some of the puzzle with them, just to get them started, and watch them take off on their own!
My kids had hours and hours of fun working puzzles when they were little, but I also had fun just watching them. It's thrilling watching them figure out where the next piece goes, and to see that look of accomplishment on their little faces, well, now that's just priceless!
We had all sorts of puzzles, but the ones I really liked for little kids were the ones with little peg handles. They could hold onto that peg and place the piece into the cut-out. Just watching them was so great. And they never got tired of working those simple little puzzles.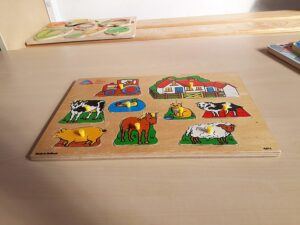 There are many puzzles that help kids learn too, such as the ones with pieces in the shape of the alphabet letters, or numbers. These types of puzzles give kids a head-start on learning their letters, which leads to learning to read faster.
Another type of puzzle I recently learned of is Floor Puzzles. They are like, a giant jigsaw with large pieces that is worked on the floor… it really doesn't fit well anywhere else. But several kids can work it at the same time, so it's great for play dates, or rainy days when one's kids can't play outside.
Later On
As kids grow, so does their ability and talent for working puzzles. Keep their interest going by getting them more and more challenging puzzles at each stage they reach. There is no set rule to follow, although my advice is to choose puzzles with either shapes or pictures that appeal to the kids.
Get them puzzles with 20 – 40 pieces, or even more, if they are ready for that. Just keep increasing the difficulty slightly as they grow. That way, they won't be bored, but they also won't be overwhelmed or frustrated.
Always start them off on the puzzle in the beginning, but don't feel bad when they get to the point where they don't need your help. You can always have your own puzzle going on the side, but I just preferred to watch my kids have their fun. Such cherished memories!
Older Kids
Once that puzzle-bug has bitten, kids are hooked, at any age. Even teenagers love jigsaw puzzles, although yes, I am aware that they might not all want to admit it! Still, I would happily be willing to bet that if you place a jigsaw puzzle on a table and invite teenagers in, they will start working that puzzle. I've just seen it happen too many times.
Don't forget about 3-D puzzles, since lots of older kids really like them a lot. They can be as simple as a ball puzzle, such as a globe puzzle. Or they can be much more intricate, such as a castle, or fortress.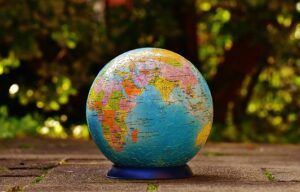 You may have noticed that I left out exact ages, for the most part, here. That's because kids are all different, and they all learn things in their own time. While one child may be doing 4 – 8 piece puzzles at age 2, another might not really get into them until age 3. And then too, still another child may do them at age 1 ½. It varies, because children themselves vary.
In The End
Regardless of what age a child starts doing puzzles though, they all can benefit from them greatly. They will end up with:
Better fine-motor skills
Improved attention span
Better depth perception
Improved memory skills
Better social skills
Improved hand-eye coordination
Best of all – A healthier brain!
Jigsaw puzzles really are rather timeless. They have been around for over 200 years and are still going strong. They might seem simple, but they really do have hidden depths, as any puzzle fan knows.  So, regardless of age, the benefits are there for all kids with tried and true jigsaw puzzles for children.
Happy Puzzling to All!!